Welcome
SFS GLOBAL (SFSG) is a wholly owned subsidiary of the Susanville Indian Rancheria (SIR). SIR is a federally-recognized Indian Tribal government located in Susanville, California.
SFSG has the financial, HR & management capacity to eliminate risk as a Prime Contractor: Our Prime contract at Barstow staffed over 200 personnel with billings in excess of $1 million monthly.
SFSG has demonstrated excellence in contract transitions.
SFSG has the experience to conduct all levels of training to ensure an excellent workforce.
SFSG has the experience to manage complex task orders.
SFSG has a wealth of experience in providing timely reports to customers ensuring that they have all the information they need to manage the contract.
San Antonio Roofing Projects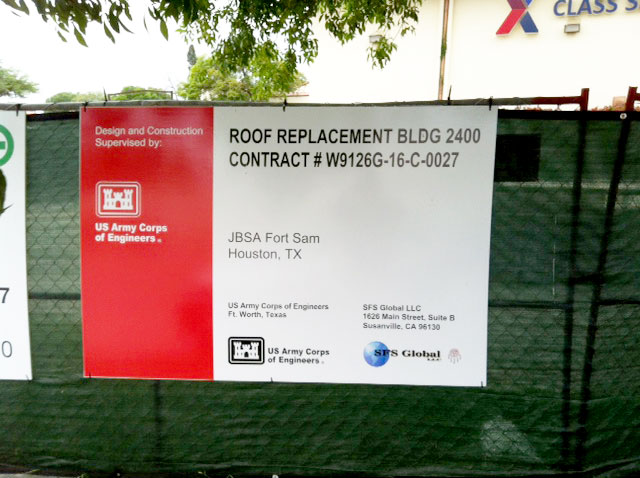 SFS Global performed two firm fixed-price roofing contracts simultaneously at JBSA. These contracts included three separate projects on Lackland AFB and two additional projects on Randolph AFB and Ft. Sam Houston, TX.
These projects demonstrate our expertise in the project management of facility maintenance. Our staff included a project manager, a site supervisor, safety personnel and quality personnel. At times we were running day and night shifts to accommodate customer requirements. This also demonstrates our ability to manage multiple projects at multiple sites across different bases, with multiple subcontractors, all at the same time.
During the successful performance of these projects SFS Global was able to accommodate government-required delays (for example: to accommodate protected animal species), government methodology restrictions (no cranes near flight lines).  We were also able to accommodate changes in customer requirements (for example, the Class 6 store had to remain open and functioning during an entire roof removal and replacement) as well as coordinating with other base contractors (for example, the removal and replacement of electrical and HVAC components from roofs).
Field Service Representatives – Albany, GA – TACOM TS3
The SFS Global/Tiburon JV (JV) supports the Program Management Office for Light Armored Vehicles (PMO-LAV) in support of the USMC. The JV provides Logistical Warehouse Field Service Representatives (FSRs) at Marine Corps Logistics Base Albany with an additional responsibility to spot check MCLB Barstow twice a year. LAVs were first purchased in the 1980s and have been in the USMC system for over 30 years. A Service Life Extension Program (SLEP) was started in March 2000 to manage upgrades to the fleet. Since then the USMC has also initiated a number of survivability upgrades. Our FSR's assist the PMO-LAV in managing and tracking its stock, store and issue requirements for Vehicle Upgrade Kits, Government Furnished Equipment and Government Furnished Equipment. Specific tasks include:
Inventory Tracking, including log and reporting functions
Ensuring adequate stock for PMO-LAV schedule requirements
Physical inventory inspection;
Correct project numbers, track and locate missing or delayed items
Coordinate and track outgoing PMO-LAV shipments iaw fielding schedules.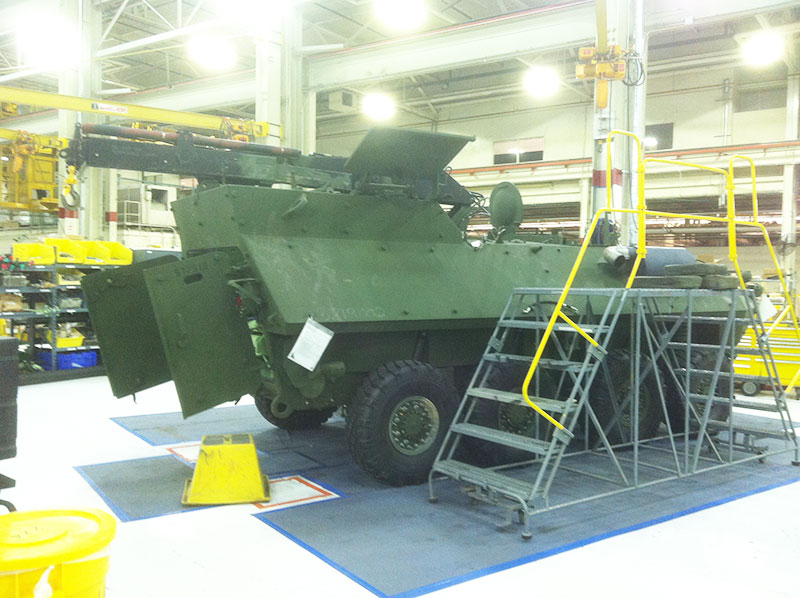 Depot-Level Maintenance Support – MCLB Barstow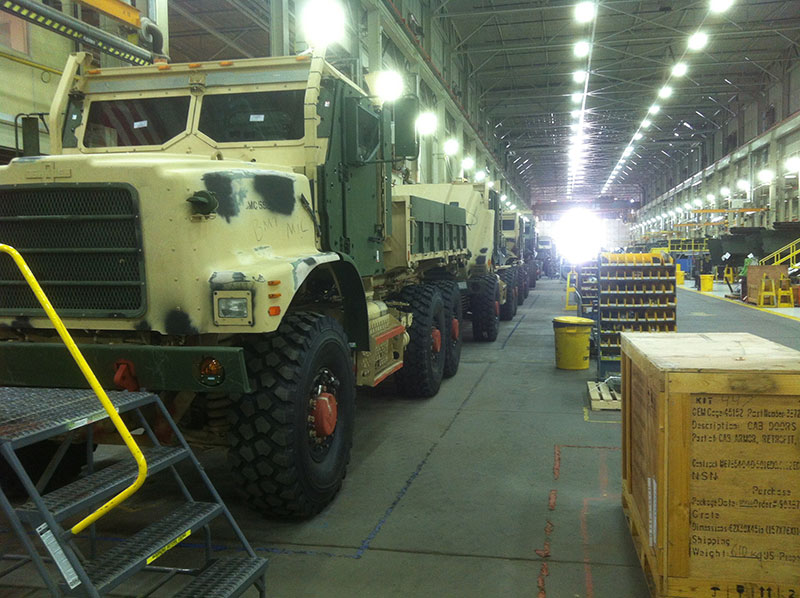 SFSG managed two $20 MM+ contract for the USMC, Maintenance Center Barstow, CA. (MCB) to perform maintenance on USMC vehicles. SFSG initially provided 168 technical staff in support of the Production Support facility in Barstow, CA. This effort grew to 218 employees, all but 4 of which were under the Service Contract Act (SCA). SFSG provides production support for 25 different vehicle lines at two different facilities for up to 100 vehicles per month. In addition to vehicle maintenance personnel, SFSG supplies inventory management, warehouse and production support personnel to include Supply Technicians, Stock Clerks, forklift operators and Material Coordinators. This demonstrates SFSG's ability to manage a large SCA workforce at multiple sites, manage subcontractors and manage the transition from an incumbent contractor as well as the ability to meet all milestones and deliverables on time and on budget. Furthermore, it demonstrates the ability to administer, cash flow and properly account for a large contract in accordance with DCAA & DCMA requirements.